Shopping Cart
Your Cart is Empty
Thank you for your business!
You should be receiving an order confirmation from Paypal shortly.
Exit Shopping Cart
Whale World
A MUST see to any visit to Albany!
Whale World
Take an interactive journey through the site of the last operating whaling station in Australia accompanied by a series of audio visual displays, artefacts and whaling history. Explore over 20 exhibits including an awesome skeleton exhibit, the Cheynes IV whalechaser and three state-of-the-art technological theatres.
Open: Daily from 9am (except 25 Dec). Tours run hourly from 10am to 4pm.
Amenities/Activities: Whalers Galley Café-Restaurant, Mobies Souvenirs, Children's Playgrounds, BBQ and Picnic facilities.
Whale World, Frenchman Bay Road, 21km South of Albany. Tel. 08 9844 4021
Tordirrup National Park
Albany's Rugged Coastline
Tordirrup National Park, on the otherside of Princess Royal Harbour is where you will find spectacular natural coastal scenery. The "Gap" Natural Bridge, Blowholes and Jimmy Newhills' Inlet are all in this area.
Frenchman's Bay Road will take you there. Along the way, be sure to call into the Windfarm. Australia's largest Windfarm alongside magnificent coastal views. Beautiful Frenchman's Bay and WhaleWorld is at the end of this road. You will also find other attractions on the way like the Gem House and Albany Birdpark.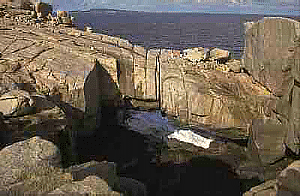 Mt Romance - Sandalwood Factory
The Sandalwood Factory at Mount Romance's headquarters in Albany, Western Australia. Just a short 12km drive from Albany (2km north of the Albany Airport). Drop in for a quick visit or spend half a day at your leisure.
Open 7 days per week between 9am and 5pm.

Inquiries: Ph: (08) 9841 7788 (intl: +61898417788)

Plenty of parking for buses and caravans



Winner 2001 West Australian Tourism Awards - Most Significant Regional Attraction.

Finalist 2001 National Tourism Awards - Most Significant Regional Attraction.
Visitors can take a free tour, shop in our magnificent international showroom, wine, dine or snack in the Café Sultan, sample our special Sandalwood infused wines and, as a very special treat, why not book and spend an hour in 'The Cone, the Gong and The Bowl' - a very unique relaxation experience found only at 'The Sandalwood Factory'.
Old Convict Gaol
Corner of Stirling Terrace & Parade Street, Albany
Built as a convict hiring Depot in 1850s
Open 10am - 4:15pm daily
A combined ticket is for the Old Gaol and Patrick Taylor Cottage ( The oldest building in Albany) dating back to 1831
Albany was the last piece of Australian soil soldiers saw as they headed off to war. This is also were the first Anzac Day Dawn Service was held. The massive bronze statue was originally at Port Said in Eygyt until the Suez crisis

0

/